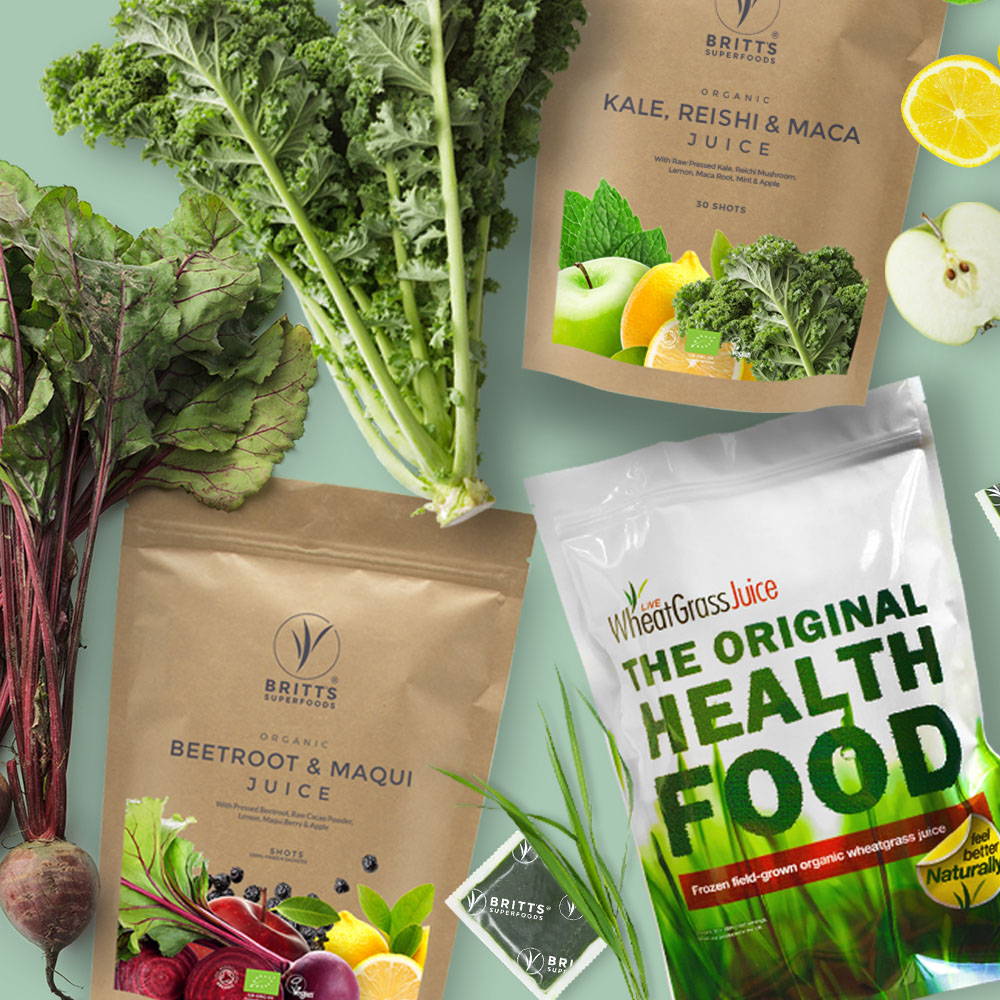 Join the Juice Club monthly subscription programme today and receive 20% off your first payment. No contract.
Cancel anytime.

The No.1 Wheatgrass Juice & Superfoods Company.
FIELD GROWN. ORGANIC. NATURAL.
We harvest nature's goodness to enable you to increase vitality and take charge of your health. Our 100% pure, natural and organic outdoor grown Wheatgrass juice and SuperFood juices are totally free from synthetics. Nothing added and nothing taken away. No artificial colours, flavours, sweeteners or preservatives.Raw, Vegan & Gluten Free.

Award winning juices delivered frozen to your door.
Frozen to maximise the nutritional values in every juice sachet ensuring the very best for your health.
30x 28ml sachets/shots per bag.
I was looking for an Organic, natural company who could provide me with Wheatgrass juice without any additional preservatives or colourings and fresh not powdered. It is also important that the products are gluten free. Britt's Superfoods were the only company I discovered that achieved all of these things.
I absolutely love the LiveWheatgrass – it's a wonderful support and help! I am particularly pleased with the way it seems to balance the blood-sugar levels so I don't feel so 'empty' and washed out. Many thanks

Wheatgrass is actually life changing! My husband and I have been taking Wheatgrass for only one week and already feel more energised with a positive outlook. The errands and Jobs that I have been putting off are less overwhelming and nearly completed…I believe is down to the nourishing effect on our minds and bodies.

Exercise is my true passion and although I take care to achieve a balanced diet, there was always something missing. I started taking a shot of Wheatgrass each morning in my usual protein smoothie and have been blown away by the improvement in my energy and performance levels.
Are any of these symptoms familiar to you or your loved ones? Recurring headaches or migraines Fatigue and body weakness...
Now when the cold season is upon us, some of us struggle with colds and are worried about what a...
Website designed by Michael Coletta